Tayside Biodiversity - Barn Owl Survey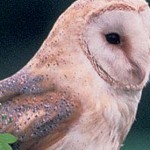 The Barn Owl needs your help. If you see a barn owl please fill in this online form - thank you
Barn Owls have a distinctive heart-shaped face, are entirely white underneath and have golden brown upper parts. They appear ghost-like at night and emit a loud screeching call. These beautiful birds are rarely seen - any information you can offer is vital to our survey. We need to know the present distribution of Barn Owls in Tayside.
Please note your personal information will be kept confidential.