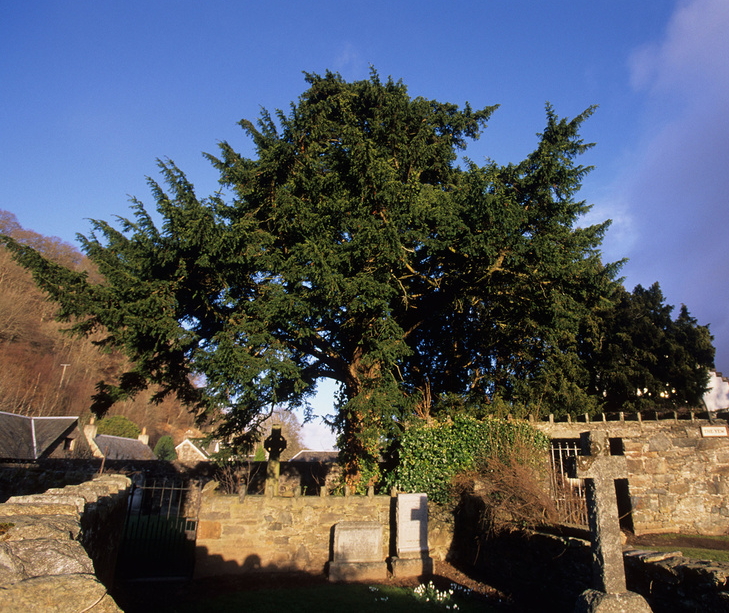 Article (translated) by María Sanz, a Spanish journalist from Traveler.es (Condé Nast Traveler Spain website) https://www.traveler.es/naturaleza/articulos/arbol-mas-antiguo-reino-unido-no-esta-en-peligro/15655 9th July 2019
The oldest tree in the UK is stressed, but not about to die
He has been watching life go by in central Scotland for between 3,000 and 5,000 years. Now he is tired, by tourists, but also by the age he is. He is not in danger of dying in the coming decades, they hope it will last for centuries. At least that's what she has explained to Traveler.es – Catherine Lloyd, Co-ordinator of the Tayside Biodiversity Partnership, who has assured that, while it is true that the presence of tourists taking parts of the tree does not help, the history of Fortingall yew has been oversized in different media.
Located in Fortingall, a small village in the heart of Perth County (central Scotland), "the Fortingall Yew is supposed to be the oldest tree in Europe and could be between 3,000 and 5,000 years old. It has come to be said that the tree could be even older, from 8,000 or 9,000 years ago when the Glaciation ended. But we don't know."
The yew is large, robust and stately, although it does not reach the dimensions of other times when, for example, in 1769 its trunk reached 17.5 meters in diameter. The Fortingall yew has been made strong by enduring the damage it has suffered for centuries. And, as Lloyd explains, "they've made holes in it, there are even stories in olden times of campfires made inside during popular parties and even one that tells how they made a horse go through it."
He has not survived all this so that, now, tourists will annoy him by taking cuttings, cutting branches and leaves and even jumping into the walled enclosure to reach him. "We don't know the stress level of the yew. There are a lot of experts involved in its care, so it is in good hands. We need to nurture it and make room for it. We are concerned that the walled enclosure around it is creating a microclimate that might not be good for the tree. The tree has had a wall around it since Victorian times, so it seems safer to leave it until we can study it further."
In this sense, they are already working to try to preserve their DNA thanks to a collaboration with the Royal Botanic Garden Edinburgh, where yew cuttings obtained from a hedge that has been planted in this same garden are growing using branches of the Fortingall Authentic yew. They estimate that in about five years the cuttings will have grown enough to plant them in the cemeteries of about 20 churches in the region.
While they wait for this to happen, Lloyd expresses her wish that visitors only take wonderful photographs and memories of the tree. "We just need to enjoy the presence of this old tree and let it be. We want the tree to live much longer and we want to be able to welcome visitors from all over the world and that there are generations and generations of people who made their way to the glen and its lovely tree."
To do this there are a number of recommendations to visitors. "They can touch the leaves of the tree, read the interpretation panel, and see the timeline on the path leading to the tree. They can enjoy some solitude and silence in the small church next to the yew or sit quietly in the churchyard and enjoy the bucolic views of the surrounding meadows. They could even climb the hill behind the church and see if they are able to detect the young yews growing nearby and wonder who planted this ancient tree."
The information in this email is solely for the intended recipients.
If you are not an intended recipient, you must not disclose, copy, or distribute its contents or use them in any way: please advise the sender immediately and delete this email.
Perth & Kinross Council does not warrant that this email or any attachments are virus-free and does not accept any liability for any loss or damage resulting from any virus infection. Perth & Kinross Council may monitor or examine any emails received by its email system.
The information contained in this email may not be the views of Perth & Kinross Council. It is possible for email to be falsified and the sender cannot be held responsible for the integrity of the information contained in it.
General enquiries to Perth & Kinross Council should be made to enquiries@pkc.gov.uk or 01738 475000.