Tayside Biodiversity - Swift Survey
We are changing how we record local swifts. By using the RSPB's national Swift Mapper, you'll help record breeding hotspots for swifts and safeguard their homes. Click here https://www.rspb.org.uk/our-work/conservation/conservation-and-sustainability/safeguarding-species/swiftmapper/ to access either the online web-based mapping system or download the mobile App. Please report your sightings to the Swift Mapper every year, even if swifts are absent from the nest sites they have used previously.
Groups of swifts flying fast at roof height, often screaming loudly? Yes, please record these;
Swifts entering holes in buildings? Yes, swifts nest in holes, so again record these;
Swifts flying into a swift nest box? Yes, please record these.
Swifts flying high in the sky or away from settlements? No, they are not necessarily local breeding birds.  If you wish, please record via https://www.bto.org/our-science/projects/birdtrack instead.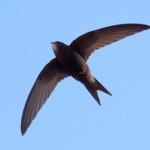 Home Swift Homes!
Swift Nest Box Reporting Portal